With about 2 billion views a day within just a few years from its inception, YouTube is a big force to be reckoned in social networking.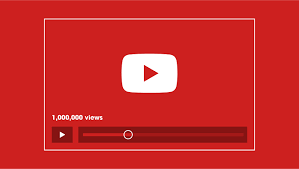 But before we decide whether to use YouTube as your social networking site or a part of it, let us first try to explore how it is different from or similar to other social networks in terms of use and application.
What Makes YOUTUBE Different From Social Network
There is no simple concept for a social network, but this is an effort to do so. A social network is about staying in touch with friends, relatives, colleagues or other people with whom you have a personal connection. The main aim is to keep in contact rather than to share news or information. This kind of network is very clear with Facebook, which is first and foremost a social networking site.
Read also: Videos as Part of your Digital Marketing Strategy
Then there's another network that can be known as an information network. The information network focuses less on what's going on in your social group, but more on the information you think is important to you. It's about taping the strength of the networks to help you broadcast and gather information. For this reason, the content of information networks is public, which is not the case for social networks. YouTube is a good example of an information network.
What Makes YOUTUBE Similar To a SOCIAL NETWORK
Owing to the prevalence of social networking, other websites follow features characteristic of social networking sites. YouTube, mainly a forum for video sharing, is one of them. As restricted as its social networking functionality may be, YouTube has added features that allow users to build a personal profile page or "channel page" and enable "friending" and sharing options.
If you are one of those people who shun YouTube because you are daunted by the idea of producing videos, here's some good news. You don't have to wait before you conquer your fear of video production to start making the most of YouTube. As soon as you set up a YouTube account, you can instantly start social interaction on YouTube by rating videos, commenting on other videos or channel pages, and making playlists for your favorite videos. If done right, you can potentially make new connections by doing so.
Read also: How Do Social Media Algorithm Work?
But let's face it. The true power of YouTube is the delivery of information through videos. YouTube in 2010 recorded 1.9 billion videos viewed every day is evidence of this. It's a good excuse to set aside your concerns about video production.
Conclusion
As most other media channels, YouTube has both a social network side and an information network side. While it is nice to remember the former, it is more important to understand that its power lies more in the latter. When planning out your marketing plan, a powerful information network like YouTube will work wonders if it's used side-by-side with a strong social network like Facebook.
YouTube has made posting videos simple and free for all. It's revolutionized the way people communicate on the Internet. Not leveraging it as part of the social networking strategy is probably one of the biggest mistakes of this online era.